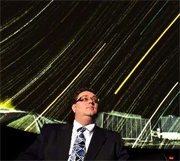 Greetings!
We survived the apocalypse and it is now time to start thinking about the upcoming Southeastern Planetarium Association Conference for 2013, which will be held from June 25 to June 29. The Museum of Science & History and the Bryan-Gooding Planetarium are honored to play host this year, and we are looking forward to creating a positive and relaxed environment that everyone benefits from and enjoys. Special conference pricing has been arranged at the Crowne Plaza Hotel, right across the street from the museum, and our day trip will be to the Kennedy Space Center. And other surprises are being planned that will make this an event to remember!
The theme of our conference is "From the Seas to the Stars," for it is our sincere hope that visitors will not just become engaged with our profession but will also gain an appreciation for the marine wildlife Florida has, from manatees to dolphins. Our Earth and all its creatures are not isolated from the cosmos, but a part of it.
All of us at the Bryan-Gooding Planetarium – Brett, Corina, Sydney and myself – are excited to see you in June.
Go boldly!
Thomas R. Webber
If you have any questions, please contact MOSH Planetarium Director Tom Webber by emailing twebber@themosh.org or calling 904.396.6674 x 243